Quick fire five with Maui Studios (NZBN 9429041424612)
Vincent Egan and Madison Henry, Founders of Maui Studios started out as two design interns with nothing to lose. They soon realised that their first professional environments lacked the right mauri (life force).
In 2014 they went solo and now have teams globally dedicated to telling Aotearoa's stories through graphic design, film, web development and illustration. Vincent shares the story of how Maui Studios came about.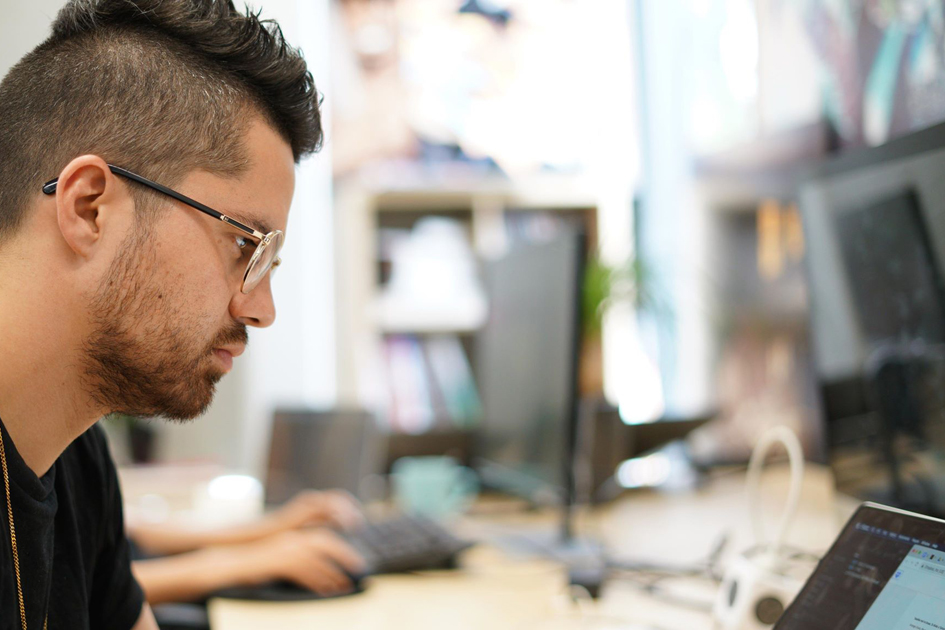 What inspired you to start Maui Studios?
I'd say what inspired us the most was our keenness to be self-determining in our work and define our own realities.
We'd just finished at Otago Polytechnic and managed to get internships. It didn't take long before we realised we could make more money freelancing as a side hustle, and we could work on projects that aligned with our values. Most of our work seemed to be corporate colourless brochures with no focus on te ao tangata whenua, or the realm of Māoridom – it just wasn't our style. Adding to that, as interns there wasn't enough money coming in to make ends meet, it was like being students again.
We were loving getting our own clients so we went all in to start our business. Te Puni Kōkiri (the Government's Ministry of Māori Development) offered us some direction in business which led us to Patrick Hussey, a serial entrepreneur from Dunedin. We collaborated on several projects with him and really vibed with each other.
We made a lot of mistakes in the beginning with business processes but we quickly learnt. What mattered was that we were finally doing what we liked and what resonated with us and our ideals for the future.
What's the thing that you are most proud of in your business?
For me it's definitely the ability to influence and inspire those in the environment around us – especially rangatahi, the younger generation.
We're working hard to push the boundaries, to help lift the capability of our youth demographic and support our communities. At the moment we're working on a programme with the Ministry of Education to develop and deliver Te Reo Māori localised curriculum resources. It's a fun augmented reality graphic novel project that will give students a very modern portal to some very ancient tales. This is the stuff we love and we're really excited for it to come to life.
What's the biggest insight you have for people getting into business?
Don't wait for the right time to start. If you're actually serious about it, then jump. Now is that moment. From what I've noticed, a lot of people wait until there's enough money in the bank and then find themselves comfortable and safe, but that can mean they never really realise their true potential.
I say jump early in life before you've achieved anything. Nothing to lose. The lifestyles between student to start-up is basically the same. Most likely, you'll make some mistakes, but you'll learn from them because you have to, otherwise you won't succeed.
What's the biggest challenge you have faced in your business and how did you resolve it?
The whole journey is full of micro-challenges so not just one big challenge comes to mind, but you overcome them by chipping away at them. It's really important to surround yourselves with people you resonate with and that you can speak openly with.
How do you use technology to save time in your business?
In business, time is money so there are of course a couple of tools to help expedite things and save time.
We make sure the team can access files at any time so we use Dropbox and Google Drive for that – it means that a single person can't create a bottleneck by holding onto a piece of work, plus we have infinite space on there. We use Google Docs which also means everything is accessible at any time and we can create spreadsheets, word docs and presentations on there and share them easily.
We also make sure that all our staff have big data allowances on their phones. It saves time here and there not having to deal with connectivity issues and saves time logging into other people's wifi – it's these little time savers that add up.
We work with over 40 contractors, so being able to communicate is really important. We use Facebook and Slack. Slack also offers creation of channels and categories that keep all the communications organised.
I've noticed a lot of people see Facebook as a huge distraction but it doesn't need to be. In the creative space, with artists and designers present on social media, it's highly important for us to be present there. I've unfollowed every distraction across every social media platform and now just follow creatives, geniuses, and thought leaders. At Maui Studios we encourage people to take breaks from work, soak up meaningful content and cultivate themselves.
Get started with the NZBN
Using the NZBN offers many benefits, by helping you cut down on time-consuming manual tasks and making it easier for others to transact with you.
Using the NZBN in your business
Get started with a free NZBN-Business Match to find the NZBNs of the businesses you already work with. Then connect to the free NZBN API to start taking advantage of the most accurate business information available.