This is the top of the main content
Why have an NZBN?
Tell everyone once and save time
Your NZBN links to the information you're most often asked to share so others can do business with you (things like your trading name and phone number). Having an NZBN means you won't have to keep repeating these details over and over. When something changes, the NZBN Register is the first place you should update your information, because others you do business with can be notified automatically and you won't have to tell everyone individually.
Let's say you're signing on as a supplier for a new customer. Their registration process is done online and the form asks for your NZBN. When you add your NZBN, other relevant fields are automatically pre-filled using information available about your business on the NZBN Register, like your email address and phone number. Now you don't have to manually enter that information. Using the NZBN is faster and smarter.
Take a look and see how the NZBN is working for tradies and their membership organisations. They're using the NZBN Register to keep members' details up-to-date and to communicate with those members, knowing they've got the right information.
Maybe your business is relocating. Having an NZBN means you only need to update your details once, which is why the NZBN Register should always be the first place you update your business information.
Imagine if your business is moving premises. Update your information on the NZBN Register and you won't have to repeat yourself to the telephone company, your energy provider, the local council, your business customers or your water cooler provider. This saves you time and money.
It's available to every business
Any business operating in New Zealand can get an NZBN, whether you're a large national company, a self-employed person working from the kitchen bench, a landlord, a partnership or a trust.
It's accurate
You can rely on the information on the NZBN Register, because it's provided by businesses themselves. It can be updated easily and quickly at any time.
To be notified when a customer or supplier changes their details, create a watchlist of businesses you work with. Alternatively, you can automate this process by connecting your systems or software directly to the NZBN Register via the NZBN API. Our free NZBN-Business Match service makes it easy to find the NZBNs of the businesses you work with.
Encourage other businesses you work with to use their NZBNs and set up a watchlist, so when you make a change to your business information they'll get a notification too.
Learn more about the NZBN API and other free services you can use.
If a business closes or ceases trading, the NZBN Register will show that. If you're using the NZBN, you'll be aware of that change and you can decide whether to continue your business relationship with them, or not.
Here's how an NZBN helped Levi's supply business, what could it do for you?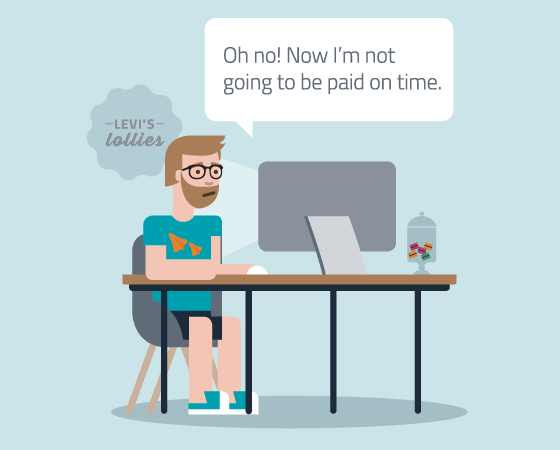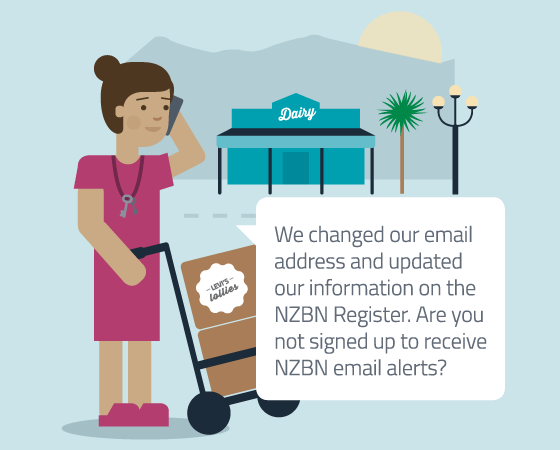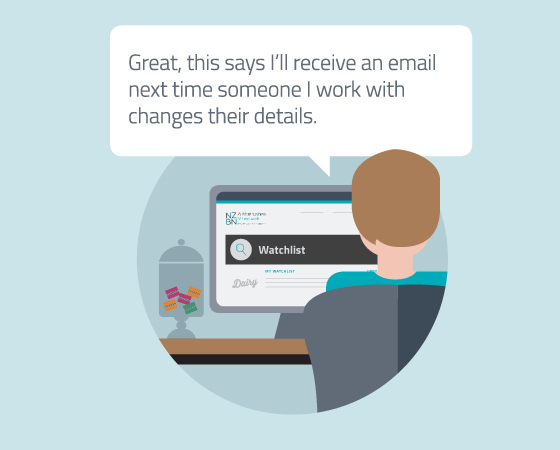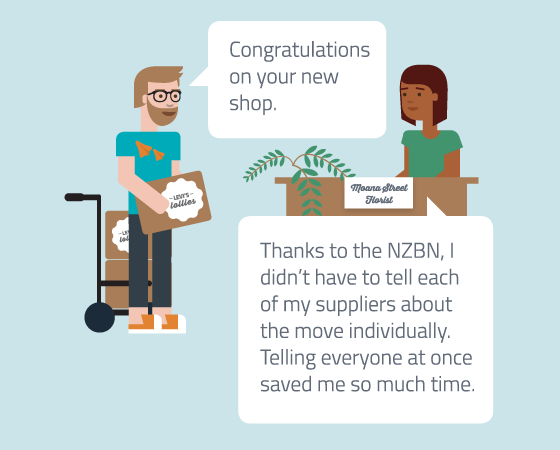 For certainty
Having an NZBN shows that your business is real and tangible giving others peace of mind when working with you. You can also use the NZBN to quickly and easily check the details of new suppliers or clients, to ensure they're who they say they are. Since the NZBN is a globally unique identifier, when you use your NZBN, anyone across the world will recognise you, which is handy when you do business overseas.
Take a look at how credit bureau Centrix uses the NZBN to accurately identify businesses during credit checks.
Your customers and suppliers will be using the NZBN
More and more businesses are using the NZBN, by either getting and using their own, or accessing other organisations' NZBNs from the Register. Some of these businesses will be your customers or suppliers now or in the future. Soon, they'll be asking for your NZBN so they can use your information to connect or transact with you.
Get your NZBN now, so that when you're asked for it, you're ready. When something changes, the NZBN Register should be the first place you update your business information, because others you work with rely on these details being up-to-date. As more people start using the NZBN, it will become central to the way you do business.
Search the NZBN Register to see if your business already has an NZBN and, if not, get yours now.
It makes it easier to interact with government
Many government agencies, like ACC, Inland Revenue and the Ministry of Business, Innovation and Employment already use the NZBN to quickly and easily identify businesses.
If you're a supplier to government, or are involved with tendering or contracting, it's much easier to do business with government agencies if you have an NZBN.
Soon, when you update your core business information on the NZBN Register it will automatically update with every government agency. Won't that be easier?
Ask the government agencies you interact with when they'll be connected to the NZBN Register.
Over time, the NZBN will be integrated into all the day-to-day interactions you have with other businesses (and government), so processes that are currently manual and tedious, will be automated and seamless.
Next steps