Self-employed? Build your business credibility with an NZBN
JUST TACO
Are you self-employed like Andre "Taco" Caraco? Use the NZBN to show your customers you're the real deal.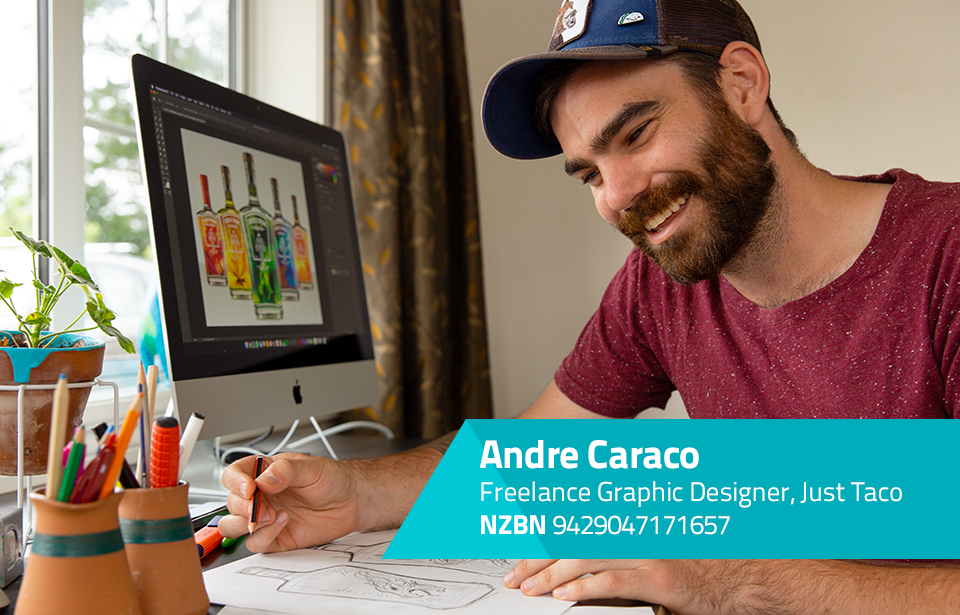 Andre is a freelance designer, better known as Taco. Even with ten years of international experience under his belt, being a sole trader means it can sometimes be sketchy proving his credibility to clients – especially when you go by a name like Taco.
Taco has worked with brands like 2 Degrees and Whittaker's but when pitching jobs to clients, he's often up against large, well-known design agencies. It's important for sole traders like Taco to be able to prove they're a real business, just like the big guys – and that's where the New Zealand Business Number (NZBN) comes in.
"As a freelancer I have to ensure all my clients have total confidence in dealing with me, and that's why I have a New Zealand Business Number," says Taco.
When you're a sole trader using a trading name, it can sometimes be hard for clients to check that you are who you say you are. Now, sole traders can include details like their trading name and website on their NZBN profile, so it's quick and easy for others to check that your business is the one they intended to work with.
"It makes it easier for customers to reach out to me and offers certainty that my business is the real deal. Even with a name like Taco," he jokes.
When Taco found out getting an NZBN was free for sole traders, signing up was a no brainer. Having an NZBN means Taco doesn't have to spend so much time explaining his business creds to clients.
"The beauty is now I can spend more time putting pen to paper, sketching my clients' visions into illustrations," says Taco.
The NZBN Register is the one central source of business information, including details for companies, sole traders, partnerships, trusts, registered charities and more.
For sole traders
If you're a sole trader, freelancer, contractor or self-employed person, your customers or suppliers will soon start asking for your NZBN. It's free for sole traders, partnerships and trusts so get your free NZBN now so next time you're asked for it, you're ready.
For other businesses
Does your business work with contractors, freelancers or sole traders? Ask for their NZBN, so you can be certain about who you're doing business with.
About Just Taco – NZBN 9429047171657
Taco is a self-employed freelance designer and illustrator based in the Wairarapa. He's worked in the USA and New Zealand, for clients ranging from craft beer brands to sustainable fishing firms. He lives on a lifestyle block in Greytown and can usually be found sketching his next creation while admiring the jersey cows in the field next door.
Check out his work at justtaco.co.nz.(external link)(opens in new window)
Published: 13 February 2019